A particular greeting to those who survived the Maw and the Pale City, brace yourselves, for you might not be so lucky at our next destination.
It's with great pleasure that we now prepare you to return to our charming world of darkest dreams known as The Nowhere.
Welcome to Little Nightmares III.
In Little Nightmares III, we expect no less than what we have always expected from you children: courage, cleverness, and imagination. If you think you've come well-equipped, please proceed (at your own risk).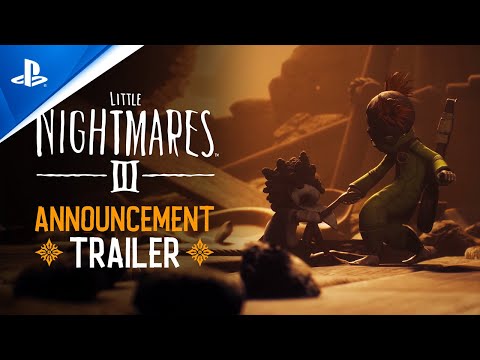 For the first time in the Little Nightmares franchise, you can face these new horrors with a friend using online co-op. Or, if you'd rather embark on this journey by yourself, you'll also be able to play solo with an AI companion.
You'll play as Low and Alone. Two lost children seeking a way out of this gloomy world and trying to escape a greater threat lurking in the shadows.
Low and Alone are each equipped with their own iconic items that will allow you to solve various puzzles and defend yourself against the new and dangerous challenges that await you. You'll be able to interact with the world using Low's bow and arrows and Alone's wrench, but you'll also need your wits, tenacity, and creativity to survive your trip across the Spiral.
The game's first chapter takes place in the desert sands and ruins of The Necropolis, a city of eternal energy and certain death powered by gusting winds. The ancient metropolis is now more of a ghost town. And it's unclear what happened to its inhabitants, but perhaps a giant baby had something to do with it.
The Necropolis is the home of Monster Baby, a new Resident with swiveling doll-like eyes who is, due to her bulk, an agent of sheer destructive force. She may not seem cruel or malevolent at first sight, but her size, clumsiness, and curiosity might become dangerous for our dear Visitors.
Low and Alone will have to find a way to navigate these ruins while staying out of her way – and Monster Baby is far from the only danger they'll face.
So, are you ready to dive deeper into the twisted world of Little Nightmares III?
The game will be released on PS5 & PS4 in 2024.
By PlayStation Official blog (blog.playstation.com)