Welcome to Bath Vegas – a sprawling metropolis of neon lights and retro Americana. It's a party city fizzing with bubbly personalities and home to the world's most spectacular foam party!
That's what you'll get to experience in Foamstars – a new cooperative multiplayer shooter for PS5 and PS4 that puts two competitive teams of foam-flinging characters in fast-paced online battles. In September, you'll be able to join the party yourselves in the Open Beta Party.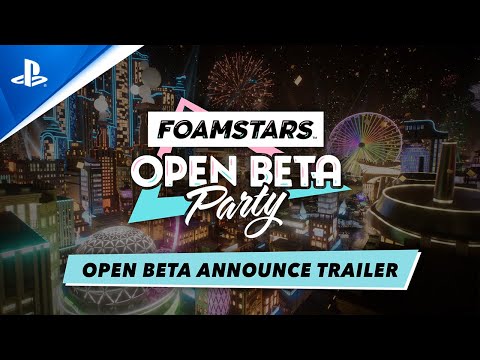 It features two game modes, all the characters available at launch, and it's free to play online for all PlayStation 5 players – even those without PlayStation Plus.
Read on, and we'll explain what's in the beta, when and how to join, give you an overview of the game and reveal how to play like a pro!
When is the Foamstars open beta and how do I join?
The Foamstars Open Beta Party runs:
September 29, 6pm PDT – October 1, 11.59pm PDT
September 30, 2am BST – October 2, 7.59pm BST
September 30, 3am CET – October 2, 8.59am CET
September 30, 10am JST – October 2, 3.59pm JST
During this period, you'll be able to play without limits! What's more, a bonus skin will be available in the full game for anyone who participates in the beta.
To join, all you have to do is download the beta version of the game from PlayStation Store, and you'll be able to take part in the competitive foamy fun online.
Please note that you do not need an active PlayStation Plus subscription to join. The beta is open to any and all players with a PS5 and an online connection.
Also, bear in mind that this is a network test, not a demo, so there is the possibility you may experience things like connectivity issues. Hopefully not, but hey – that's why we need to test.
What's included in the Foamstars Open Beta Party?
The beta includes two game modes: Smash the Star and Happy Bath Survival.
Smash the Star
This is a team deathmatch mode where, once enough takedowns have been made, a player on the opposing team becomes the Star Player. Your team has to take out this player in the allotted time to win the match… but watch out, because your opponents will be trying to do the same to your Star Player.
Happy Bath Survival
Happy Bath Survival is an intense close-quarters deathmatch where the arena is split into an outer and inner ring. Players on the inner ring try to take each other out, while players on the outer ring must use their foam-flinging weapons and abilities to help and hinder the combatants. It's chaotic fun, where working together makes a real difference.
What characters can you play in the beta?
Eight characters are available to play in the open beta. Each of these Foamstars have unique weapons, skills and a Super Star Skill. You can mix and match characters between rounds or stick with one that suits your playstyle – it's entirely up to you.
Allow us to introduce you to the quirky cast:
Soa – a stylish idol who has mastered the art of acrobatically controlling bubbles.
Jet Justice – a self-proclaimed hero who prowls the streets of Bath Vegas to keep them safe.
Tonix – a genius inventor who overflows with curiosity and is eager to test her inventions on the battlefield.
ΔGito – a pro-gamer who continues to dominate the world of e-sports and now wants to prove his skill in other fields.
Pen Gwyn – a penguin soldier who's ready to chill anyone who stands in the way of her fight against global warming.
Mel T – the owner and face of an ice cream brand. She might appear innocent and cute but this CEO packs a real punch.
The Baristador – a refined gentleman full of mystery. Some might find it hard to believe he is the unassuming owner of café bar.
Rave Breaker – a clean freak who wants to eliminate all party animals and clean up the competition.
How do you play Foamstars?
The best way to learn how to play Foamstars is simply to do it – pick a character and experiment with the different skills and game modes to find what you like! However, to help you get started, we have some basic advice:
Slide into enemies to take them out
Remember that foaming your enemies isn't enough. Once a player is foamed up, you (or a teammate) must slide into them to knock them out. You can only slide quickly on your own team's foam – your opponent's will slow you down – so try to create roads and paths to ensure you have a route to your target.
Protect your teammates
If you see a teammate is foamed up (they'll be calling for help), sliding into them will free them, thus depriving your opponent a takedown. As satisfying as it is to take down a rival, it's even more smirk-inducing to undermine their hard work!
Avoid and replace enemy foam
If you stand on an opposing team's foam, your movement will be slowed dramatically. Not only does this make you easy pickings for your rivals, it feels horribly sticky – so you'll want to avoid it.
You can either try to avoid enemy foam, or you can fire your own weapon to replace it. Either way, stay on your own bubbles as much as possible.
Use foam to block enemies and find advantageous angles
The more foam you spray, the more it will build up. You can create walls and bases made of foam which can be very useful.
For example, building a wall can block enemy approaches and force them to find alternate routes to their targets, and protect your teammates. Or you can use foam to get up high, giving yourself a wider view of the arena and the opportunity to take out enemies from above.
Work with your team, and you'll discover all kinds of awesome ways to use your foam to your advantage…
Use your skills
Every character has a set of unique skills, which are activated with the shoulder buttons and a Super Star Skill that can be unleashed with triangle. These can range from foamsplosive grenades to faster traversal methods.
Skills can be game-changers, and they recharge over time, so don't feel a need to hold them back. Remember: they exist to be used!
---
We hope you enjoy playing Foamstars and remember – the open beta is just a taste of what's in store in the full game which will release early 2024.
For now, we can't wait to see you in Bath Vegas for the Open Beta Party.
By PlayStation Official blog (blog.playstation.com)